Brief introduction

Hard light sensor is widely used in real life room escape game, there is a magic flashlight or hard light like torch or laser pointer. Adventurers need to find the flashlight and shoots the right place in the receiver for a certain times, the EM lock opens.
Product highlight
1. User can revise the sound files through the TF card which has already installed in controller.
2. User can set the shooting time of this light sensor.
3. If you want to add the number of light sensor, please feel free to contact.
Details introduction
1). When players enter into the chamber room, they need to find a flashlight or laser pointer.(anything can emit strong laser)
2). They need to use the flashlight to shoot the light sensor for a certain times with audio, then the lock will release.
How to reset?
After trigger successfully, shooting the right times again to reset.
How to set the shooting times?(1-30 digits)
1) Keep holding the red button on the controller
2) Power on the controller, let go of your hands till you heard the voice tips
3) Follow the voice tips, you can set the shooting time of your own.
4) Wait for 10 seconds, the system will save the shooting times automatically.
Prop list
Part1. One light sensor

Kindly remind, escape room owner can install this light sensor onto the wall or below the wallpaper. The light receiving point needs to be exposed.
Part2. One 12v controller

Part3. One 12v power supply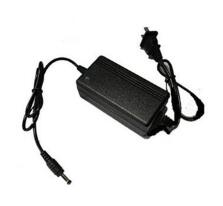 How to connect with 12v EM lock?

How to revise the sound files?
1). Attention: please make a copy of the original sound files in case of wrong operation.
Sound file must be MP3 format, directly change the suffix of the file is invalid
2).The path to the file cannot be changed, if you revise sound files from 01 file then put it back to 01 file, not other files.
3). File names cannot be changed, keep the file name same as original.